Anglican Church of Southern African
Monthly Investment Report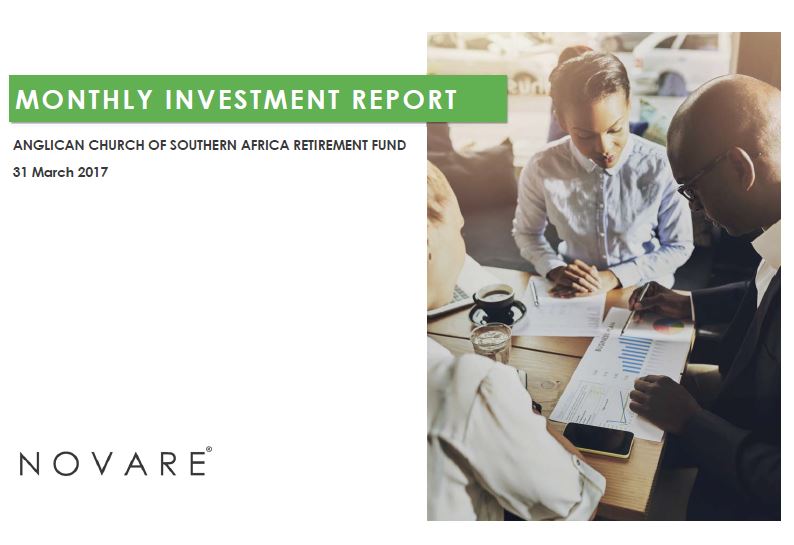 March 2017
After much speculation and anticipation, President Jacob Zuma announced the reshuffle of his cabinet. The restructuring saw the removal of both then Finance Minister Pravin Gordhan as well as his deputy Minister Jonas. The now former Minister of Home Affairs, Malusi Gigaba, will now lead the Finance Ministry, joined by Sifiso Buthelezi as the new deputy. The market reaction was negative as the local unit lost over 8% against the greenback in the week of Gordhan's firing. The rand gave back 2.4% against the dollar for the month but has appreciated 8.3% year-to-date. Despite being immersed in South African politics, the local currency found support in the improved global emerging market backdrop, favourable terms of trade, a narrowing in the current account deficit and attractive carry trade.

As widely expected the South African Reserve Bank (SARB) kept the repo rate unchanged at 7%, as the central bank stated that the inflation outlook has improved, with one of the supportive factors being the stronger rand. The SARB Governor highlighted that the positive gains witnessed over the past few months have been threatened by the recent local political developments, presenting the currency as an upside risk to the inflation outlook. Headline inflation print for February moderated to 6.3% year-on-year, from 6.6% in January, which was in line with expectations. The country's current account deficit narrowed to 1.7% of GDP in 4Q16, from 3.8% in 3Q16, bringing the average for the year to 3.1%, down from 4.1% in 2015.

In terms of market moves, foreigners were net sellers of JSE equities, however, the FTSE/JSE Share Index still managed to return 2.6% for the month, outperforming other asset classes. The local bourse found support from the Resources 20, which was up 3.3% for the month as well as the Industrial 25 which returned 4.6% for the month. The Financial 15 Index was a laggard as it declined by -0.8% in March. Following the political uncertainty around former Finance Minister Gordhan, the yield on the S.A. 10-year bonds peaked at 9% - up from 8.3% in the preceding week. The local bond market continued to attract investors due to the globally favourable emerging market backdrop. Unfortunately, the unfolding political developments reversed the positive trend and bond yields started to tick up again. For the month, the All Bond Index returned 0.4%, while the South Africa Listed Property Index and cash gave back 0.1% and 0.6% respectively.