Anglican Church of Southern African
Monthly Investment Report - Retirement Fund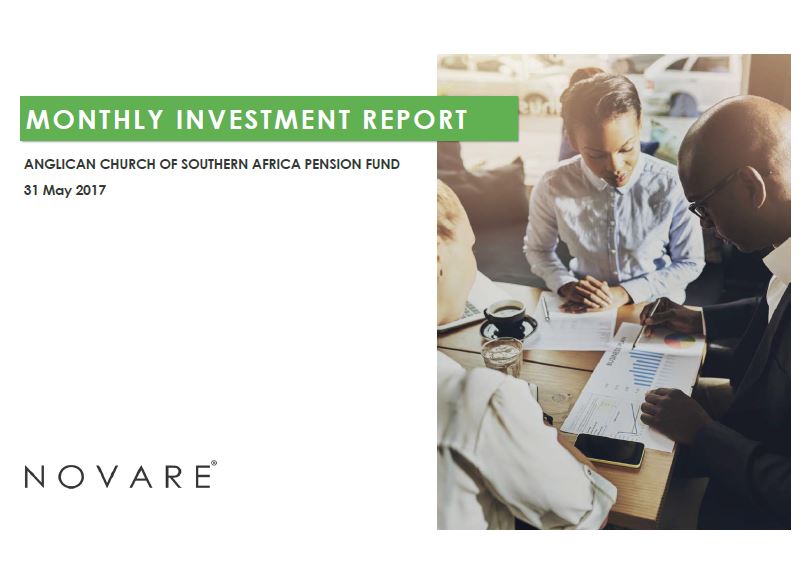 May 2017
The local equity market lagged the performance of global emerging markets, despite the share price of Naspers (the largest listing on the local bourse) which gained a strong 5.3%. The FTSE/JSE All Share Index closed 0.4% lower. It was dragged down by a 1.6% decline in the financial sector and 3.4% loss in the resources sector. Industrial shares bucked the trend and closed 1.8% higher. Local economic data remained dismal. Retail sales for March rebounded, but it still showed a contraction during the first quarter of this year. Similarly, manufacturing production declined by 0.9% during the first quarter. Mining production grew by 3.5% over the same period as activity was driven by a rebound in PGM production.

South Africa's image as a manufacturing hub received another setback when General Motors announced their disinvestment from the country by the end of the year. The further loss of jobs is concerning as South Africa's official unemployment rate increased to 27.7% in the first quarter of 2017 - the highest level since
2003. Some positive relief came in the form of consumer price inflation which moderated to 5.3% in April from 6.1% the previous month. This was the lowest rate since December 2015 and was driven by an easing in food and transport costs.

Despite the easing in inflation, the South African Reserve Bank maintained a less-than-expected dovish stance at their meeting during the month as the Governor announced the committee's concern over the longer-term inflation outlook which was still near the upper end of the targeted band. Interest rates were left unchanged. Foreign buying of local bonds supported the bond market and the All Bond Index rose 0.9% during the month. The currency also benefitted from the foreign portfolio inflows and it appreciated by more than 2% against the dollar to close the month at R13.07/$. Listed property ended the month relatively unchanged returning 0.1%.